Potter's hands have been busy making, wheels whirring and kilns firing up getting ready for the highlight of the ceramics calendar – the Australian Open Studios weekend August 20 & 21 from 10-4.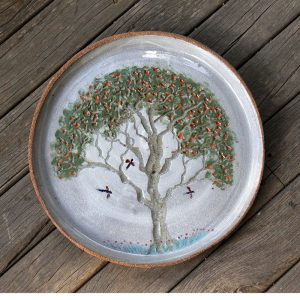 Join us on the North Coast Mud Trail 2016 with 19 open studios for you to visit and support the work of the incredibly talented mud mob in this region. Check out the link for an interactive map if you haven't picked up a mud map yet. We'll have maps on the day for you to take too.
At the Rainforest Ceramics studio there'll be over 1,000 pieces available with plenty of $10 bargains. Each piece sold helps to save rainforest. With your help we're aiming to protect 1,000 acres of rainforest via the Rainforest Trust.
As a token of our appreciation sales $100 and over will receive a free jar of home made organic Davidson's Plum jam made with plums grown on our property and nearby. We'll also be serving lemon myrtle tea and you go into the draw to win a free giveaway. Look forward to seeing you for a fun weekend!
If you can't visit us in person you might like to check out our new online shop and gallery www.rainforestceramics.com Join the mailing list and we'll keep you posted on latest firings, upcoming sales, rainforest news and much much more.